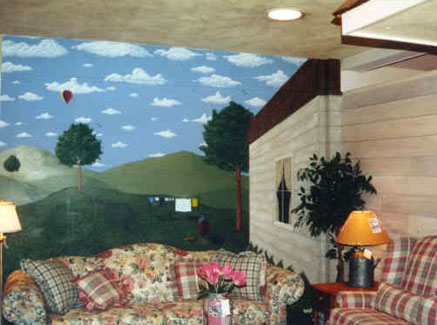 Click thumbnails above for larger images for faux finishes & murals
Answers


What is faux?
Faux, by definition means, not genuine or real, false, a copy of a genuine article, simulated.

Faux Painting or Faux Finishing is a general term used to describe a wide array of finishes or techniques to produce a decorative application that may represent a particular style.

Common terms may be; rag rolling, marbleizing, wood graining, distressing, patinas, Venetian Plaster, etc.

What is Trompe L'oeil?
French for 'deception of the eye' A mural that depicts a three dimension impression that creates atmosphere and gives the illusion of space or distance.

How do I figure out what I want?
I have an extensive assortment of samples and styles to review. You may see what you want or we will make custom samples for you to see in your home and you will know what you are getting prior to us starting. Your imagination will ignite with ideas once you see all of the possibilities.

Are you in insured?
For $1,000,000.00!